Memories: My Encounter With American Singer, John Legend In Ibadan -Ayotunde Ayanda
It was a sunny Sunday afternoon ( I can't remember the exact month) in 2007. I was in church, dozing off while feeling the coolness of the air conditioner and not really paying attention to the boring sermon from the Pastor when my Nokia 3310 gave a notification that I had a  message. Was it an alert ? Did I set any appointment?  I don't usually have appointment on Sundays.
I was fiddling with my phone while battling with the thought of reading the message after the sermon. I was jolted back into reality when I unlocked the screen and realised the sender was a colleague, Akeem Azeez (the present Personal Assistant to the Oyo State Governor, Seyi Makinde) he only gets in touch whenever there was an emergency.
As usual, the text was simple and was more of an order than an invite…'join us for an afternoon session with John Legend at 2pm. Venue, the University College Hospital'.
I had a million thoughts flushed over me. What is John Legend doing in Ibadan? Or is there another John Legend? Abi he wanted to say John Fashanu?
I was convinced it wasn't the same John Legend, that American singer and a protege of Kanye West that was taking the entertainment world by storm with songs like 'Cold Outside', 'Ordinary People', 'All Of Me'.
But as a journalist, either it was John Fashanu or John Legend, both of them were newsworthy.
I rushed out of the church, flagged a bike and headed to the University College Hospita, Ibadanl.
I was disappointed when I got to UCH and a young nurse told me they just left. I fired a question at her 'you mean John Legend was here?'. From the expression on her face you could tell she didn't know who John Legend was. Her response was, some people came here to dedicate the Children's ward and they just left.
I rushed out again and was wondering what my next line of action should be, when another text message entered my phone…'you know Aunty Lanre's house at Jericho? It's called Ajitoni's Court. Meet us there'.
I didn't know if I was running or flying, I flagged another bike and told the rider, 'get me there in 5 minutes and take 200 Naira'. That simply did the magic! We got there in exactly 7 minutes.
As I entered the compound I sighted a slightly bow-legged, fair skinned guy talking to some people. I was still trying to get familiar with the atmosphere when someone grabbed my elbow and said 'lets go and meet him'.
I was trying to protest, asking 'is this John Legend? Does he have a bow-leg?' when he looked back and smiled,  and instantly the recognition dawned on me and I remembered seeing that cherubim face on the jacket of the Get Lifted album. We pumped fist and I made to hug him but drew back when I saw a towering image standing behind him, obviously his bodyguard. He made a signal I couldn't understand. We sat down and after some minutes of trying to get familiar with his accent, we started a conversation with the first question from Alhaji Akeeb Alarape, the Sun Newspaper correspondent who is now a farmer in Iwo, Osun State.
He told us Tayo, one of the daughters of Chief Mrs Lanre Otiti, a very respected woman, an Ibadan chief who practised nursing for many years in the United States was his friend. In fact he called her his manager.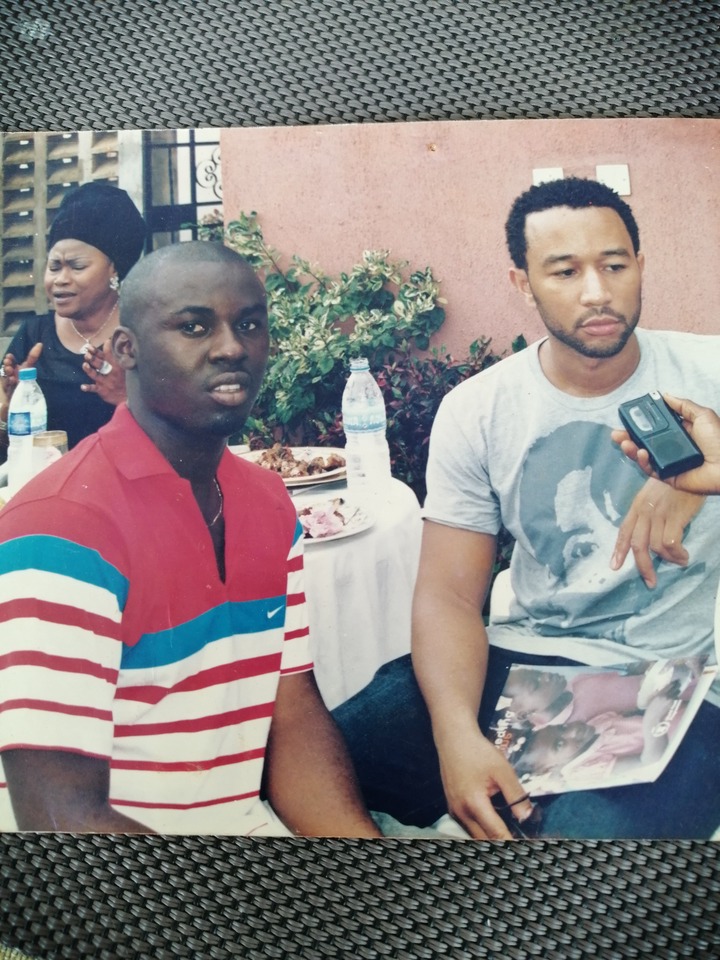 He explained that he was in Nigeria with his team for the Thisday Newspapers Festival when Tayo told him her mother would like him to come and dedicate a Children's Ward in Ibadan. He said he was amused, he loves children and would like to give his support to anything that has to do with children all over the world, particularly in Africa.
I told him the acceptance his music enjoys in Nigeria, and he was thrilled when I sang the first verse of his 'Ordinary People' track.
He said he was aware of the impact his song was having on the youths and he confirmed his plan was to sing and stage carnivals where he wants to preach love, unity, support and also speak against drug abuse, violence and other vices known among the youths.
He was of the opinion that the Nigerian entertainment industry was doing good and he predicted a boom in the next 5 years (and he was right!).
When I asked if he listens to Nigerian songs, he said he listened to Fela and some other African musicians.
We had a lengthy discussion and he promised to get back to me by email (which he must have obviously forgotten) and he left with his team as they were to perform that night at the awards in Lagos.
He made a good impression on me, I didn't try to get in touch after then, but funnily I still love his songs and followed him on instagram. Maybe one day I would be bold to post the picture we had and refresh his memory…one day, maybe or maybe not.
'we were shot by Burna Boy's crew members, not the Police' -victim
-Ayotunde Ayanda
There is a new twist to the gunshot incident between singer, Burna Boy and some men at a club in Lagos.
The story going round was that the policemen attached to the singer, shot two men during a fight at the Cubana club in Lagos. This incident provoked the situation where the Inspector General of Police, Usman Alkali Baba called for the arrest of the five policemen that were at the scene on the day of the shooting.
In an interview with papermacheonline Lawrence, a 27-year-old cyber security analyst and resident in the United States gave the details how he was shot and other graphic evidences…
What happened on the day of the incident?
On the day of the incident which was Wednesday morning around 3am, I went to Cubana club with some of my friends. We were there for a couple of hours celebrating one of my us that came back home for a wedding, we were about twenty at the club and we were having a nice time at the VIP section.  We were laughing, drinking and having a good time.
Initially Davido came in and sat directly opposite our table, he stayed for about 15 minutes and left, about 5 minutes later Burna Boy and his crew member came in. We were still there, having fun, most of us came from the United States and UK so were just enjoying ourselves there.
As the night progressed , one of Burna Boy's crew members walked to our table and came to talk to my friend's wife. At that first attempt she told him she wasn't interested in talking to Burna Boy and that she is married with her husband there, his request was for Burna Boy to talk to her.
The crew member came again the second time and was met with the same response, he came the third time and that caused few of our friends to flare up as they asked why he kept coming to disturb a married woman. There was words back and forth and one of Burna Boy's crew attacked one of our friends, and as they attacked him the who situation degenerated to a fight, it became a free for all.
 As the first fight started the security at Cubana stepped in and were able to calm the situation, as that happened everybody was slowly going back to their section and I was trying to look for my pendant that fell during the fight, while doing that two of his crew members came and started pushing me, I pushed back and another fight started and the security at Cubana jumped in again, but at that time there was fight all over the place.   As you know the VIP at Cubana was in the middle, so the fight broke out from there and spread to the other parts of the club, there was fighting also outside.
 As we were fighting that was when I heard the first shot inside the club, the person that shot was one of Burna Boy's crew members and not the police . As I heard the first shot I smelled the gunpowder and I started running towards the exit, then I heard the second gunshot, then the crew members tried to attack me on my way out, as I was running I got hit by a bullet and I fell down, I was able to pull myself up and ran towards the exit, but one of them came to punch me in the face, you can see the scar here , but I was still able to evade them, there were still shots being fired, my friends were outside already and they were shooting outside as well. I can identify few of those shooting through the pictures. .
I realised I was shot and the bullet went through my inner thigh to the other thigh, as I was holding my thigh , three of their guys pounced on me, but luckily I was  able to also evade them and then I saw one of my friends who had already ran into his car, I told him I was shot , he pulled me into the car and we were able to navigate through the confusion . My other friend told me that he was in the section and the bullet grazed him in the head and he escaped as well. One of our friends who went back to search for our missing items was badly beaten.
I was taken to the Naval hospital, luckily for us a police officer was following us, he was the one that told them I was shot at the club and that was how I was taken in, given first aid and blood and I later became stabilised.
How many of your friends were shot?
Two of us were hit. I and the guy they were trying to talk to his wife, but there was sporadic gunshots.
The story was that the shots were fired by Burna Boy's police escorts, did you see any policeman shooting at the club?
I didn't see any policemen, when Burna Boy and his crew came in  they didn't come with any policemen because armed policemen were not allowed into the club.
Where was Burna Boy during the whole incident?
He was sitting down at the section, and after they started shooting he left and probably went to his car.
Since the incident , has he reached out to you?
Somebody from their team called my older brother to try and have a discussion. They've also reached out to different third parties. The person that was trying to talk to us called himself Simon.
There was a story which stated that Burna Boy was laughing during the fight?
Yes, he was sitting down laughing during the altercation. He was sitting down there because he was the one that asked them to call my friend's wife and his boy made it very clear that he was the one that wanted to talk to her.
Can you identify those the shooters?
yes, I can identify about three of them. Two of them had dreadlocks. The bullet went through my left pocket, hit my phone and went through my inner thigh. I had surgeries where they removed pellets from different parts of my body, it was actually my private parts that was shot, but right now I think I'm about 90 percent ok, though I still have some doctor's appointments.
How did the police handle the matter?
We've had different reports. The police said they are still investigating. But the story that we were shot by the police wasn't correct, we were shot by Burna Boy's crew members. We also made it clear to the Commissioner of Police in Lagos and provided evidence and pictures.
Did you see any one of your attackers holding a gun?
Yes,  I saw one of them brought out a gun during the fight.
Was it a pistol?
no, it was like a small shot gun
What do you want from this?
. To be honest I want justice for the situation that happened to me and I also dont want this to happen to anyone again. My wife also witnessed all the fight and ran under the car, she also came from the US and this was her first time here.
'Why We Are Taking Headies To The United States' – Ayo Animasahun
Ayotunde Ayanda
Executive producer of the Headies Awards, Ayo Animasahun has explained why the organizers decided to take the 15th edition of the entertainment award out of Nigeria to the United States for the first time.
Animasahun while answering questions from the Nigerian Tribune at the pre-awards ceremony hosted by the American Ambassador, Mary Beth Leonard at her official residence in Ikoyi, Lagos said ' Atlanta in the US  is the black capital of the world where black music thrives, it's the centre of entertainment and I don't see why we shouldn't do something like this there, we've done it in Nigeria for 14 years, its time to take it out of Africa'.
Animasahun when further probed how he feels about people misunderstanding the concept stated 'they should wait and see. Whatever you want to do there are always unbelievers, but you shouldn't bother about them no one has done this before and we need everybody to join hands so we can do it together'.
The US Mission Nigeria hosted a reception on Thursday 13 May 2022 to honor the 15th Annual Headies Music Awards which will be held for the first time in Atlanta this year.
Delivering remarks at the event, Ambassador Leonard applauded the growing ties between Nigeria and America in the creative industry.
She explained that the choice of Atlanta to host the Headies symbolizes the growing relationship between the music industries in the United States and Nigeria and the growing relationship between the music industries in the United States and Nigeria and the growing popularity of Nigerian music.
Anchored by comedian Bovi and Basketmouth, the event was attended by entertainment best, media giants and people from different sectors.
The event was lighted with performances from Goya Mean, Teni, D'Banj and Rema with an attendance by Amaju Pinnick, Dayo Adeneye, Kenny Ogungbe, ID Ogungbe, Zizi Cardow, Joro Olumofin, Ayeni Adekunle, TEE A, Steve Babaeko, Nike Davies Okundaye, Gbenga Adebija and other industry greats.
I Will Reveal His Dirty Secrets In My New Song- Singer, Saheed Osupa Hints Fans As He Declares War On Seyi Makinde
Many who had thought the raging war between fuji musician, Saheed Osupa and Oyo State Governor, Seyi Makinde is over are in for a surprise.
In a recent show held at the Liberty Stadium, Ibadan, the musician declared was on the Governor when he hinted his fans of his plans to unveil some dirty secrets about the politician in his new song.
Saheed Osupa released an album some time ago where he told a story of Chief Rasheed Ladoja and Seyi Makinde in a tone themed in betrayal, lies and ungratefulness.
Sources privy to the issues the singer had with the Governor claimed he reached out to the singer after the song was released, but it was not certain if the singer honoured his invite or not.
Those in the know claimed Osupa's grudge against Makinde was what he termed 'use and dump', a tactic the singer said has become the style in the running of Oyo State.
At the recent APC Youth Carnival in Ibadan where the musician was contracted to sing, he blasted the Governor and told his fans in plain yoruba 'e ti ri nkankan o! gbogbo iwa palapala e ni mo ma reveal ninu orin mi to ma jade soon, e ma gbo wirnwinrin' (you have seen nothing, I would reveal all his dirty acts in my new song, you would be stunned).