Memories: My Encounter With American Singer, John Legend In Ibadan -Ayotunde Ayanda
It was a sunny Sunday afternoon ( I can't remember the exact month) in 2007. I was in church, dozing off while feeling the coolness of the air conditioner and not really paying attention to the boring sermon from the Pastor when my Nokia 3310 gave a notification that I had a  message. Was it an alert ? Did I set any appointment?  I don't usually have appointment on Sundays.
I was fiddling with my phone while battling with the thought of reading the message after the sermon. I was jolted back into reality when I unlocked the screen and realised the sender was a colleague, Akeem Azeez (the present Personal Assistant to the Oyo State Governor, Seyi Makinde) he only gets in touch whenever there was an emergency.
As usual, the text was simple and was more of an order than an invite…'join us for an afternoon session with John Legend at 2pm. Venue, the University College Hospital'.
I had a million thoughts flushed over me. What is John Legend doing in Ibadan? Or is there another John Legend? Abi he wanted to say John Fashanu?
I was convinced it wasn't the same John Legend, that American singer and a protege of Kanye West that was taking the entertainment world by storm with songs like 'Cold Outside', 'Ordinary People', 'All Of Me'.
But as a journalist, either it was John Fashanu or John Legend, both of them were newsworthy.
I rushed out of the church, flagged a bike and headed to the University College Hospita, Ibadanl.
I was disappointed when I got to UCH and a young nurse told me they just left. I fired a question at her 'you mean John Legend was here?'. From the expression on her face you could tell she didn't know who John Legend was. Her response was, some people came here to dedicate the Children's ward and they just left.
I rushed out again and was wondering what my next line of action should be, when another text message entered my phone…'you know Aunty Lanre's house at Jericho? It's called Ajitoni's Court. Meet us there'.
I didn't know if I was running or flying, I flagged another bike and told the rider, 'get me there in 5 minutes and take 200 Naira'. That simply did the magic! We got there in exactly 7 minutes.
As I entered the compound I sighted a slightly bow-legged, fair skinned guy talking to some people. I was still trying to get familiar with the atmosphere when someone grabbed my elbow and said 'lets go and meet him'.
I was trying to protest, asking 'is this John Legend? Does he have a bow-leg?' when he looked back and smiled,  and instantly the recognition dawned on me and I remembered seeing that cherubim face on the jacket of the Get Lifted album. We pumped fist and I made to hug him but drew back when I saw a towering image standing behind him, obviously his bodyguard. He made a signal I couldn't understand. We sat down and after some minutes of trying to get familiar with his accent, we started a conversation with the first question from Alhaji Akeeb Alarape, the Sun Newspaper correspondent who is now a farmer in Iwo, Osun State.
He told us Tayo, one of the daughters of Chief Mrs Lanre Otiti, a very respected woman, an Ibadan chief who practised nursing for many years in the United States was his friend. In fact he called her his manager.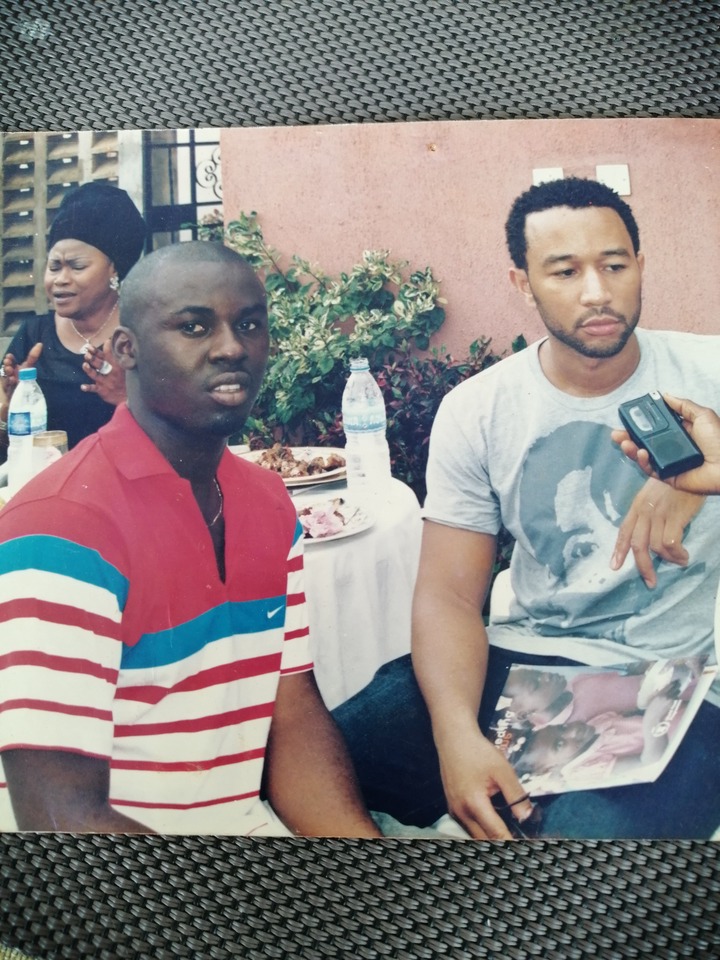 He explained that he was in Nigeria with his team for the Thisday Newspapers Festival when Tayo told him her mother would like him to come and dedicate a Children's Ward in Ibadan. He said he was amused, he loves children and would like to give his support to anything that has to do with children all over the world, particularly in Africa.
I told him the acceptance his music enjoys in Nigeria, and he was thrilled when I sang the first verse of his 'Ordinary People' track.
He said he was aware of the impact his song was having on the youths and he confirmed his plan was to sing and stage carnivals where he wants to preach love, unity, support and also speak against drug abuse, violence and other vices known among the youths.
He was of the opinion that the Nigerian entertainment industry was doing good and he predicted a boom in the next 5 years (and he was right!).
When I asked if he listens to Nigerian songs, he said he listened to Fela and some other African musicians.
We had a lengthy discussion and he promised to get back to me by email (which he must have obviously forgotten) and he left with his team as they were to perform that night at the awards in Lagos.
He made a good impression on me, I didn't try to get in touch after then, but funnily I still love his songs and followed him on instagram. Maybe one day I would be bold to post the picture we had and refresh his memory…one day, maybe or maybe not.